We specialize in expertly tearing down old houses, commercial buildings, outbuildings, deck, and more. Our team is committed to delivering safe, efficient, and demolition services in the Abilene, TX area. Whether you need to clear space for a new project or remove an aging structure, we've got you covered.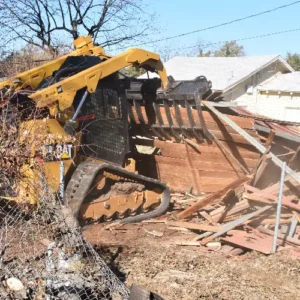 We are a reliable and experienced demolition and dumpster rental company dedicated to providing top-notch services to our clients.
* Professional Service
* Fast Response Time
* Punctual and Dependable
* High Customer Satisfaction
* Residential and Commercial Service
With years of expertise, well maintained equipment, and a skilled team, we ensure every project is completed with precision and care.
Safety and sustainability are at the forefront of our operations, making us a trusted choice in the industry.
Our Demolition Services
Residential Demolition: Safely and efficiently demolishing old houses to make way for new developments or renovations.
Commercial Building Demolition: Tearing down commercial structures while adhering to industry safety standards.
Outbuilding Demolition: Removing unwanted outbuildings to enhance your property's functionality and appearance.
Deck Demolition: Disassembling and removing decks on your property to create a clean slate for your new outdoor space or for you to to install a new deck.
Why Choose Thornton's Dumpster Rental for Demolition Work?
Safety First: We prioritize safety at every stage of the demolition process, ensuring the well-being of our team, clients, and the community.
Efficiency: Our team employs modern techniques and efficient practices to complete projects within specified timelines, minimizing inconvenience to you.
Expertise: Our skilled professionals are experienced in handling a wide range of demolition projects, ensuring exceptional results and client satisfaction.
Customer Focus: Your needs and satisfaction are our top priorities. We listen to your requirements and tailor our services to meet your unique project goals.
Contact Us Today
Ready to take the first step toward a clear, rejuvenated space? Reach out to Thornton's today at 325.673.4376 to discuss your demolition project, request a quote, or schedule an onsite visit. Also check out our dumpster rentals if you're doing demolition work on your own. Our team is here to answer your questions and provide the best demolition solutions for your needs.