Simplify Cleanup with our range of dumpsters in 20, 30, and 40 Yard sizes. Getting a dumpster is a great way to save time, money, and hassle. By renting a Thornton's dumpster, you can avoid dealing with the mess and stress of disposing of large amounts of trash or debris. We will do it for you!
Our dumpsters are designed to meet the diverse needs of homeowners, contractors, and businesses anywhere in the Abilene, TX area.
We offer three main sizes:
20-Yard Dumpster: Ideal for smaller residential cleanouts, renovation projects, or garage clean-ups.
20 feet long x 8 feet wide X 4 1/2 feet tall
30-Yard Dumpster: Perfect for mid-sized construction projects, office cleanouts, or large-scale home renovations.
20 feet long x 8 feet wide x 6 feet tall
40-Yard Dumpster: Suited for major construction or demolition projects, commercial renovations, or large-scale cleanups.
20 feet long x 8 feet wide x 8 feet tall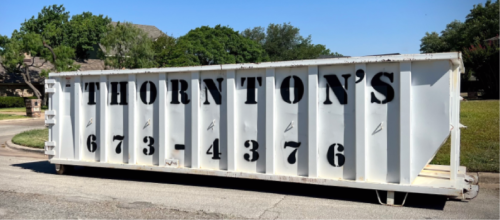 We don't charge a daily rate as long as you have the container for less than 5 days and we do offer a range of sizes to match your specific project requirements, ensuring you have the right capacity for efficient waste removal. We offer same day delivery based on availability.
Ready to streamline your debris disposal process? Contact Thornton's Dumpster Rentals today to rent the perfect-sized dumpster for your project. Reach out today by phone 325.673.4376 to discuss your requirements, get a quote, or schedule your dumpster delivery and make waste removal hassle-free. Or fill out the form below and we'll get back to you as soon as possible.