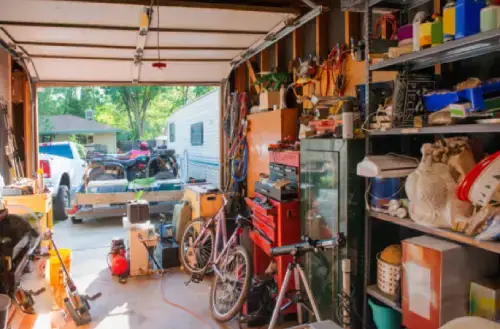 A lot of folks are needing help with residential cleanup for a variety of reasons. For these matters a dumpster rental can be part of the the perfect trash removal solution.
Downsizing and Relocating
The excitement of moving to a new home or moving to a different city can be quickly overshadowed by the daunting task of deciding what to bring with you. A five-day dumpster rental can provide the time needed to go through possessions and make decisions about what to keep or discard.
Thornton's Dumpster Rental keeps things hassle free for you if you're downsizing by handling the disposal of items that won't fit in your regular city trash or contracted trash collection bin. If you're uncertain whether your trash collection service will accept certain items, we can assist you in finding a waste disposal solution. In addition, we can provide last-minute dumpster rentals based on availability.
Junk Cleanup
Wife bugging you to clean up the garage and/or your storage unit/outdoor shed, mancave? Give Thornton's Dumpster Rental a call to arrange a dumpster drop off so you can concentrate on getting rid of stuff you just don't need anymore.
Home Renovations
Whether you're renovating a single room or the entire house, Bin There Dump That is here to help you create a fresh, beautiful living space after disposing of the debris from your home improvement project. Our customer feedback indicates that homeowners who rent our dumpsters find it easy to manage construction waste and other debris.
Disaster Recovery
In times of disaster, such as fires, flooding either by natural sources or a broken pipe, or other natural calamities, business and home owners rely on Thornton's Dumpster Rentals to help in disaster recovery and cleanup. Regardless of the volume of waste you need to dispose of, we can help you find the ideal dumpster for the job.
Is Renting a Dumpster Worth It?
You won't need to rent a truck, bug a buddy who has a pickup truck, or risk damaging your own vehicle to haul items away. Just fill the dumpster, call us when you're ready, and we'll haul your trash away.